Neuropathy or Peripheral Neuropathy
NeuropathyDR of Tucson and DR J. L. Greer DC a local chiropractor has been serving the Arizona community since 1992. We specialize in Neuropathy Care, and our staff offers quality and reliable treatment you can count on. In addition, our friendly and professional staff is here to answer any questions you may have about our company or our services.
Whether you need Large or Small fiber care, we have what you need at prices you can afford. At NeuropathyDR of Tucson, our goal is to provide you with courteous, expedient, professional service of the highest caliber.

What is Peripheral Neuropathy?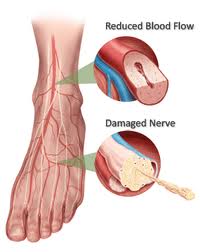 The Peripheral Nervous System is made up of the nerves that branch out of the spinal cord to all parts of the body. Peripheral Nerves can be classified according to size, which correlates with the degree of Myelination or fatty covering that facilitates signal transmission along the nerve.

·

Large nerve fibers are heavily Myelinated and control muscle strength, vibration, and touch sensation.

·

Small nerve fibers are usually affected more than large nerve fibers.
Peripheral Neuropathy is the term used to describe disorders of the peripheral nerves. Neuropathy also means disease or abnormality of the nervous system that can include any damage to the nervous system. Carpal Tunnel Syndrome, Herniated Discs, and Strokes are all insults to the nervous system, all with different symptoms. Diabetes is a systemic disease that affects all nerves of the body from the brain, eyes, and small nerves of the heart and digestive system, to the nerves in the hands and feet causing Diabetic Neuropathy. Statin (Cholesterol Drugs) and Chemo Therapy also cause Peripheral Neuropathy.

When to see a doctor
Seek care right away if you notice any unusual tingling, weakness or pain in your hands or feet. Early diagnosis and treatment offers the best chance for controlling your symptoms and preventing further damage to your peripheral nerves. If your symptoms interfere with your sleep or you feel depressed, your doctor or pain specialist may be able to suggest treatments at NeuropathyDR of Tucson / Sunrise Chiropractic that can help.

SENSORY SYMPTOMS:

Most commonly, peripheral neuropathy may start in the longest nerves — the ones that reach to your toes. Specific symptoms vary, depending on which types of nerves are affected. Signs and symptoms may include:
·

Burning feet / foot and hand pain

·

Sharp, jabbing or electric-like pain in the feet, legs and hands

·

Extreme sensitivity to touch, even light touch in the feet / foot legs and hands

·

Lack of coordination or balance problems

·

Muscle weakness or paralysis if motor nerves are affected in the feet and hands

·

Bowel or bladder problems if autonomic nerves are affected
Damage to or loss of small nerve fibers results in Pain, Burning, Tingling, and/or Numbness in the hands, feet / foot. These symptoms typically affect the feet / foot, legs, and hands starting at the tips then moving upwards.

NOTE: Small Fiber Neuropathy is often mistaken for Plantar Fascilitis, Vascular Insufficiency, or Degenerative Lumbosacral Spine disease.