Suffering With The Misery Of Neuropathy?
| | |
| --- | --- |
| | In Association with Neuropathy Treatment Centers of America, Sunrise Chiropractic is pleased to announce a BRAND NEW APPROACH to the Treatment of Peripheral Neuropathy. |
New Understandings in the Field of Peripheral Neuropathy are now Providing New Hope for those who suffer with the Agony and Misery of this Disease.
New Hope For Neuropathy!
If you're someone who deals with the misery and agony of peripheral neuropathy in the legs, feet, foot, legs and hands; the ongoing soreness, numbness, burning, stinging, tingling, tightness, pain and distress of this very aggravating condition; the feeling of walking on pins and needles or ground up glass, or have the sensations of little bugs crawling all over you when none are actually there, or are a family member of someone who does, CALL today for your appointment or questions with Dr. J.L. Greer DC: (520) 733-1172 to attend our FREE NO OBLIGATION Lunchtime workshop!
There is some NEW AND VERY EXCITING NEWS IN THE FIELD OF NEUROPATHY TREATMENT that may very well provide you with the help you've been searching for so long!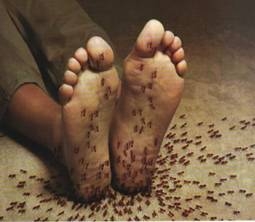 RED LIGHT RELIEF: New Hope for Neuropathy Sufferers
Did you know that there are 20 million Americans suffering from some form of Peripheral Neuropathy (P.N.)? A study by Mayo Clinic found that P.N. is sensory damage to the small nerve fibers in the hands and the feet usually caused by trauma or chemical agents such as excessive glucose, statin drugs, chemotherapy, nicotine, alcohol, or exposure to other toxic chemicals.
Symptoms can begin almost without notice and gradual move from the toes to the feet and legs and eventually to the hands and arms. There can be profound numbness and/or tingling or a feeling of burning, sometimes accompanied by what is called "restless leg syndrome." Other symptoms may include extreme sensitivity to touch and the feeling of having stones in your shoes when standing. These symptoms can all lead to a loss of coordination or balance as the brain loses normal communication with the feet.
Many patients have had to stop driving due to the inability of pressing on the gas or brake pedal. Dr. J.L. Greer D.C. Chiropractor at Sunrise Chiropractic, serving Tucson for over 20 years and an affiliate of the Neuropathy Treatment Centers of America, (NeuroTCA) states that treatment options have largely centered on drug therapy. "People either don't respond well to current treatment or they develop additional symptoms from side effects of the medications they are given to treat the symptoms."
We now have the results of over ten years of research and there is good news. Using this research the NeuroTCA has seen a 91% satisfaction rate for helping patients with the pain associated with neuropathy. Our treatment is painless, non-invasive and is effective in helping to restore function in all types of neuropathy without the side effects of drugs or surgery.
When patients visit our office, they are a given a special exam to determine the function of their nerves in the legs, feet, toes and hands. If the exam reveals neuropathy, a care plan is devised to rehabilitate the nerves and reduce discomfort. "We have seen this treatment changing people's lives, with most our patients getting good results. Unfortunately, our treatment cannot help everyone. Our specific exam is given to see if we can help. " Dr. Greer said. "People suffering from peripheral neuropathy pain can have a low quality of life as the pain touches every aspect of their existence."